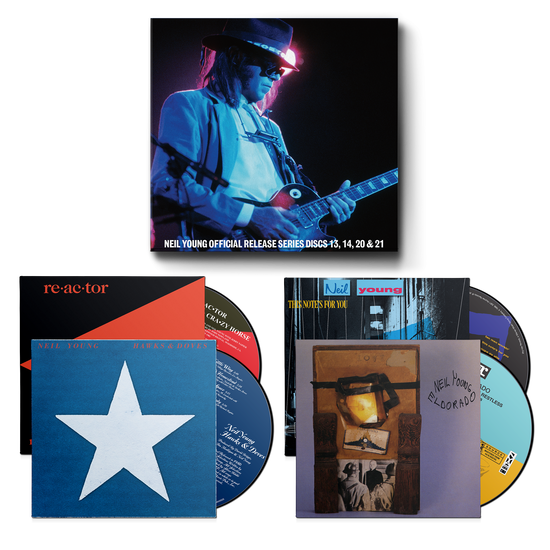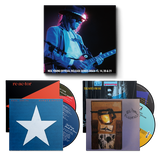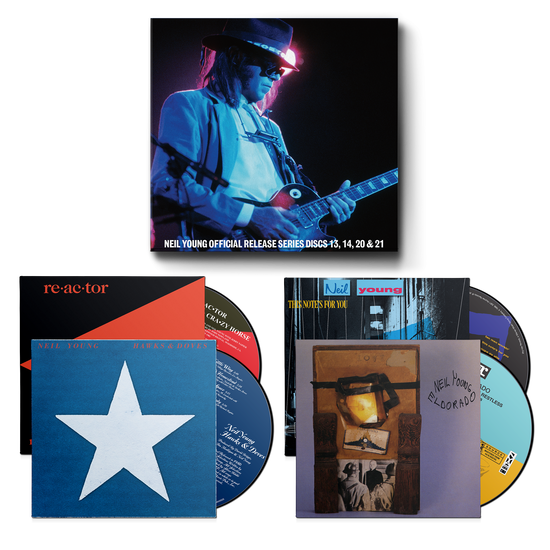 Official Release Series #4 (CD Box)
This box set continues the chronological re-releasing of Neil Young's Official Releases, remastered where analog tapes exist. Volume 4, released as a 4 LP box and 4 CD box, includesHawks & Doves from 1980 (ORS 13), Re*Ac*Tor (with Crazy Horse) from 1981 (ORS 14), This Notes for You from 1988 (ORS 20), and Eldorado from 1989 (ORS 21).

These 4 Reprise albums bookend the period 1982-1987 when Neil recorded for Geffen Records, hence the non-sequential ORS numbers.
This box set is particularly notable for the inclusion of Eldorado – a 5 track mini-album, previously only released on CD in Australia and Japan in 1989; this is the first official vinyl release anywhere. Eldorado includes two much sought-after tracks, "Cocaine Eyes" and "Heavy Love", and different versions of the other 3 tracks on Eldorado appeared on Freedomlater the same year.

Other highlights of this box set are the tracks "Little Wing" and "The Old Homestead" on Hawks & Doves, "Southern Pacific" and "T-Bone" on Re*Ac*Tor , and "Ten Men Workin'" and the title track on This Notes for You.

The vinyl of Hawks & Doves, Re*Ac*Tor and This Notes for You have all been remastered from the original analog tapes by Chris Bellman at Bernie Grundman Mastering. Eldorado vinyl is mastered using the 44/16 digital master.

The CD's of Hawks & Doves, Re*Ac*Tor both use the original 176/24 digital master. This Notes for You and Eldorado use the 44/16 digital master.
Hawks & Doves:
Little Wing
The Old Homestead
Lost In Space
Captain Kennedy
Stayin' Power
Coastline
Union Man
Comin' Apart At Every Nail
Hawks & Doves

Re*Ac*Tor
Opera Star
Surfer Joe And Moe The Sleaze
T-Bone
Get Back On It
Southern Pacific
Motor City
Rapid Transit
Shots

This Note's For You
Ten Men Workin'
This Note's For You
Coupe De Ville
Life In The City
Twilight
Married Man
Sunny Inside
Can't Believe Your Lyin'
Hey Hey
One Thing

Eldorado
Cocaine Eyes
Don't Cry
Heavy Love
On Broadway
Eldorado