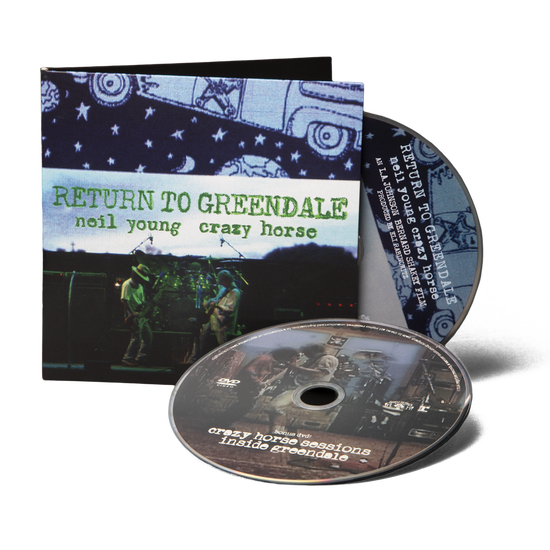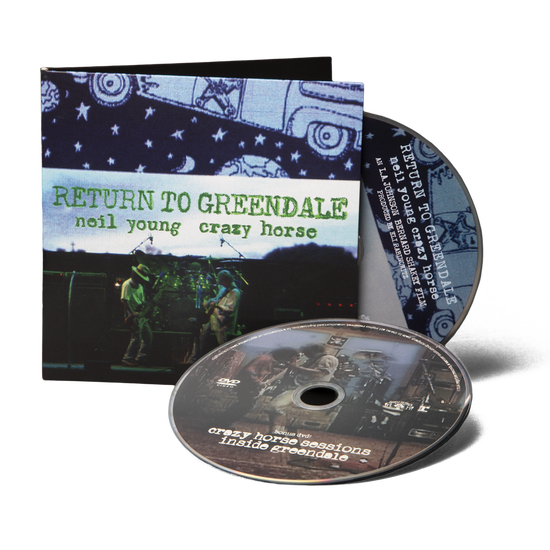 Return To Greendale BluRay 2 Disc Set
On the 2003 tour, Neil Young and Crazy Horse were joined on stage by a large cast of singers and actors to perform the story Neil Young wrote about the small town of Greendale and how a dramatic event affects the people living there. The ten songs from the powerful original album are performed in sequence, with the cast speaking the sung words - adding to the intensity of the performance.

The BluRay of the ambitious live show captures the vibrancy of Neil Young and Crazy Horse on stage in a unique multi-media experience. It seamlessly blends together the live performance, the actors portraying each song, with the story occasionally enhanced by scenes from the Greendale - The Movie.

"Inside Greendale" DVD highlights in-studio footage of Neil Young and Crazy Horse recording "Greendale," as well scenes from the "Greendale" film, brought together by the artist in an innovative mixed-media format. The result adds new depth to both the visual and audio components of Neil Young's epic tale of the Green family.

Both the live concert film and the Inside Greendale documentary are directed by Bernard Shakey and produced by L. A. Johnson.